The types of biofertilizers vary and their usage varies. The amount of pure biological fertilizer is less, generally 0.5-2kg per mu, used for seed dressing, root or leaf spraying. For example, Soybean Rhizobium fertilizer can be inoculated by mud method. Generally, 30-75kg per mu is used as seed fertilizer for mechanical sowing. Generally, the amount of bio organic fertilizer is large, 50-80kg per mu is applied as base fertilizer. When bio organic fertilizer is used as base fertilizer in dry field, it is applied in combination with the whole field in autumn and spring. The rice field is used as the base fertilizer, and the biological fertilizer is applied once before the water rake.
A biofertilizer production line can adopt different raw materials and processes to make special fertilizer suitable for different crops. In the batching stage of biofertilizer production, NPK inorganic fertilizer and other nutrients required by crops are added, which can be processed into bio organic inorganic compound fertilizer after granulating by fertilizer granulator machine. Bio organic inorganic compound fertilizer combines the double advantages of organic fertilizer and inorganic fertilizer to ensure that crops can get nutrition in the short term and the long-term supply of fertilizer effect. Fertilizer granulator machine of the biofertilizer production process makes the raw materials into granules, which is convenient for the storage and use of the products.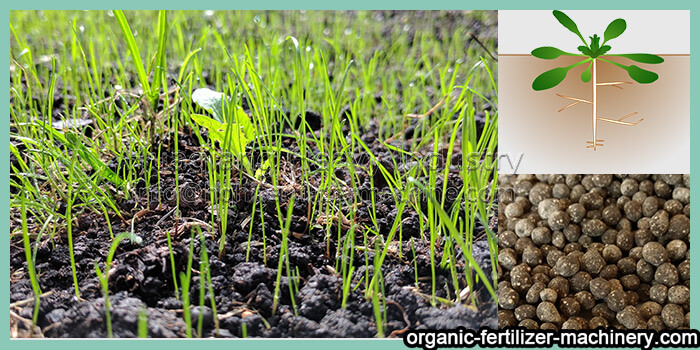 Application of biological fertilizer
1. Fertilizer machine manufacturers reminds you that applying bio organic fertilizer on the basis of conventional fertilization has the best effect, and biofertilizer should be applied continuously. If you plant fruit trees that need phosphorus and potassium, not only can't reduce phosphorus and potassium fertilizer, but also increase it properly. Some soils lacking P and K should also be appropriately increased in P and K application. The combination of biological fertilizer, organic fertilizer and inorganic fertilizer has the best promotion effect on crops.
2. When using, it should be noted that due to the nature of biofertilizer, it cannot be mixed with ammonium bicarbonate, plant ash, potassium sulfate, ammonium sulfate, etc., otherwise it will affect the fertilizer efficiency of bacterial fertilizer.
3. When biofertilizer is used as base fertilizer or topdressing, it should be covered with soil in time to avoid affecting fertilizer efficiency.
4. The application effect of biofertilizer in saline alkali land and rusty paddy field is poor.