In large-scale livestock farms, a large amount of manure is produced every day, such as pig manure, duck manure and chicken manure. If these manure can not be treated in time, it will also restrict the development of farms. Fermented organic manure from livestock manure is rich in nutrients and can improve soil condition. At the same time, microbial organic manure is outstanding in plant disease and pest resistance, disease resistance and so on. Therefore, the production of microbial organic fertilizer from livestock manure is a feasible way. The production of organic fertilizer can be easily realized by using the technology of microbial organic fertilizer production line.
Technique of manure Fermentation Microbial Organic Fertilizer
Selection of microbial fermentation agents is the first step to select appropriate microbial fermentation agents. Fermentation agents are an important link in organic fertilizer fermentation. After choosing normal fermentation agents, the actual inoculation amount of fermentation media and strains is determined. Animal manure is the main raw material for microbial fermentation of organic fertilizer.
Control of Fermentation Temperature of Organic Fertilizer
Fermentation tank is usually used to ferment bio-organic fertilizer in industrial production. When the material is fermented in the fermentation tank, the temperature requirement is not high, and the fermentation of microbial organic fertilizer does not need artificial control. Only the compost turning machine is used to mix the material every day to ensure the oxygen content in the fermentation tank. The mechanized mixing of materials in compost turning machine promotes the homogeneous fermentation of materials, which saves manpower greatly. The whole process does not require additional labor, and the fermentation can be completed by itself.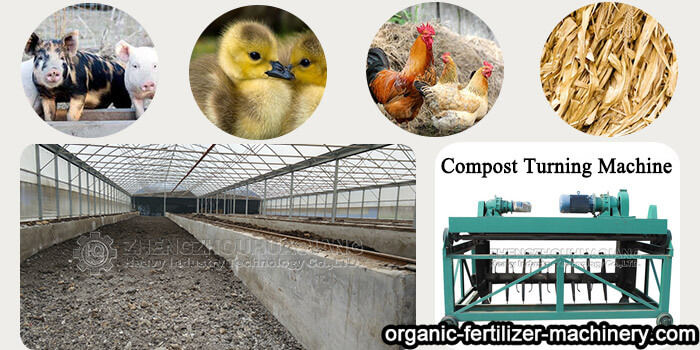 After the feces are fermented and ripened, the compost is removed from the fermentation tank. These bio-organic fertilizers can be simply treated into powdered organic fertilizers. The crude processing of organic fertilizer production line is mainly crushing and screening. Organic fertilizer is crushed into powder by a half-wet material crusher. The crushed organic fertilizer is screened by a sieving machine to be a qualified fertilizer.