Ⅰ Production Conditions of 3-5 t/h Bio-organic Fertilizer Production Process
Using livestock and poultry manure and agricultural straw waste, the production technology of bio-organic fertilizer can reach 3-5 tons per hour.
1. Floor stacking composting, using windrow turning machine. Or the fermentation tank to put the material, using the trough compost turning machine.
2. Sprinkle fungicides evenly into the fermentation products, mix the materials with the dumper, and compost to achieve the purpose of heating, smelling, maturing and killing weed seeds.
3. Fermentation for 10-15 days. According to the local temperature, the number of treatments of compost dumper is different.
4. Material that is completely fermented and decomposed is fed into biofertilizer production equipment.
5. Preliminary screening of materials by drum screening machine (the screened powdery organic fertilizer can be sold directly).
6. After the screened bulk materials are crushed by a crusher, they are re-screened.
7. Adding trace elements to powdery organic fertilizer and mixing with horizontal mixer.
8. Granulation with the new type organic fertilizer granulator.
9. Biofertilizer granules are fed into rotary dryer and rotary cooler.
11. Biofertilizer enters the coating machine.
12. Products can be sold after being packed by automatic packing machines.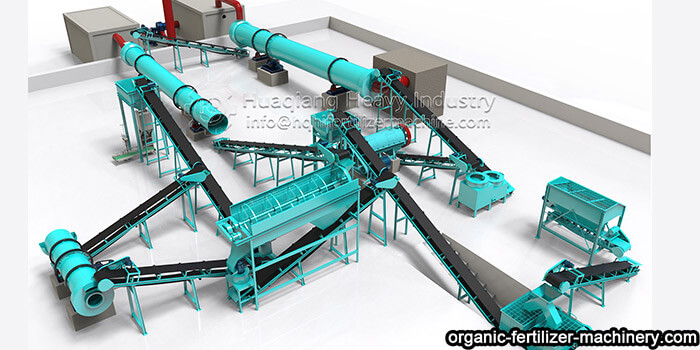 Biofertilizer production and fermentation equipment
The ground turner does not need to build a trough, but directly stacks the materials in strips and uses a material dumper for dumper fermentation.
The use of trough compost turning machine, according to your scale of production to build fermentation tank, fermentation products are continuously put into the fermentation tank, the use of turning machine for turning fermentation, can play the purpose of water regulation and even mixing, thus saving a lot of labor. It can also achieve the purpose of full ripening.
Ⅱ Investment in 3-5 tons of biofertilizer production equipment
Semi-finished products, raw material warehouses, office sites. According to the local construction cost budget.
When the fermentation tank is built, the ground fermentation tank is not needed.
In the selection of biological fertilizer production equipment, Huaqiang fertilizer machine manufacturers can configure models and functions according to customer requirements. The annual output of biological fertilizer production process is determined by the customers themselves. The material connection in our fertilizer production line is accomplished by belt conveyor. The length and number of belt conveyor can be designed according to the actual site.