Bio-organic fertilizer refers to a kind of fertilizer with microbial fertilizer and organic fertilizer effect, which is composed of animal manure as the main raw material, inoculated with microbial compound microbial agent, fermented and decomposed to completely kill pathogens, insects and eggs, etc. Bioorganic fertilizers generally contain a large number of elements such as nitrogen, phosphorus and potassium, and trace elements such as calcium, magnesium, sulfur, iron and boron, as well as a large number of organic and humic acid substances, so that the fertilizer supply is balanced.
The
bio-organic fertilizer production line
processes the fermented materials into the final organic fertilizer.
Raw materials for bio-organic fertilizer production
The main raw materials for bio-organic fertilizer production are livestock manure, crop straw and other agricultural wastes.
Mixed ingredients for bio-organic fertilizer production
The source of raw materials, fermentation methods and equipment are different, and the ingredients are different. The specific formula depends on the source of organic materials. The general principle of proportioning is that the content of organic matter in the total material should be more than 30% (50% - 70% is the best), the ratio of carbon to nitrogen (15:1) - (20:1), the pH value should be 6-7.5, the moisture content should be about 50%, and the water content should be adjusted to 50% - 70% when inoculated.
Fermented maturity
It can be stacked flat or fermented in a fermentation tank. Fermentation tanks are usually placed in closed or semi-closed fermentation chambers. The effect is better than that on flat ground. It needs to be turned periodically by the fertilizer turner machine every three days. After 25-30 days of fermentation, the temperature gradually decreases from 70-80℃ to stable, and the decomposition is completed.
Bio-organic fertilizer production equipment and process flow
Crushing and mixing pretreatment
The machine is mainly used to crush materials of biological fermentation organic fertilizer with moisture of 25%~50%. Crushing granule size meets the requirements of granulation, and also adjusted based on user need within a certain range. Have good effect on grinding the glass brick, ceramics and broken stone such kinds of hard matter from the city life garbage organic fertilizer.
The mixer machine is mainly used for mixing raw material in batches, material can be fully mixed.
High mixing rate, less residual suitable for feed, concentrated feed, premix additives mixing.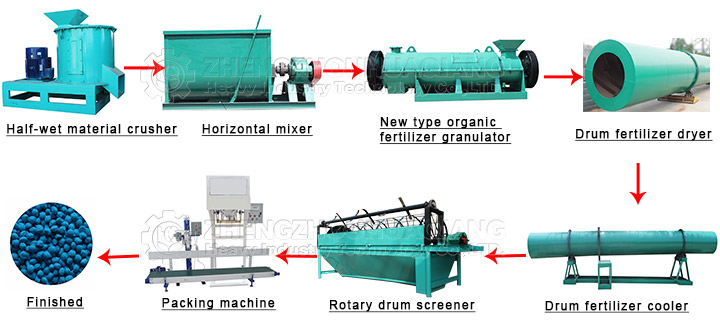 Granulating equipment
After composting, the materials need to be granulated so that they have a certain strength and shape before they can be used as organic fertilizer. Granulation is a key step in bio-organic fertilizer production. There are many kinds of granulator for bio-organic fertilizer. According to the structure of granulator, the Aggregate method can be divided into disc granulator, drum granulator, new type organic fertilizer granulator. According to the position of pressing roller, the extrusion method can be divided into double roller press granulator, flat-die granulator and ring-die granulator.
Disc Granulator: Disc granulator is widely used, less coarse particles are generated, the granulation rate is greater than 90%, but the powder fineness requirements are high.
Rotary Drum Granulator: It is suitable for hot and cold granulation and high, medium and low concentrations of mass production of compound fertilizer.
Double Roller Press Granulator: The machine have two shaft with one fixed and the other can move, which can adjust the distance between the two shafts.the materials will be extrude between the shafts. Materials are granulated at room temperature, and there is no drying process, more energy-saving and cost-reducing.
Flat Die Granulator: It no need to dry and crush the raw materials before granulation. It can direct burdening to work out cylindrical grain, and save a lot of energy.
Drum Screener Machine: There are some differences in particle sizes of the particles exported from the pelletizing and forming system, which requires sieving and grading. Drum Screener machine has the advantages of low vibration, low noise and convenient screen change. The production line is equipped with automatic feed-back system, which screens the unqualified large and small particulate materials, conveys them through belt hoist, re-crushes them and sends them to the granulator to continue granulating, which is helpful to improve the continuous operation ability of the production line.
Vibration Screener Machine: It has better screening effect for materials, but it has more dust than rotary drum screening machine at work.